NEW RELEASE:
Headlights on the Prairie: Essays on Home [Click here to order]
At the long-term care facility where Robert Rebein's father lands after a horrific car crash, a shadow box hangs next to each room, its contents suggesting something of the occupant's life. In Headlights on the Prairie, Rebein has created a literary shadow box of sorts, a book in which moments of singular grace and grit encapsulate a life and a world.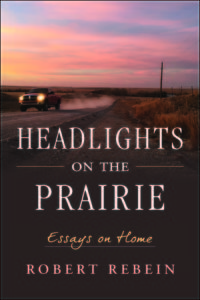 In the tradition of memoirs such as Tobias Wolff's This Boy's Life and Ivan Doig's This House of Sky, these essays bring a storyteller's gifts to life's dramas, large and small. Following his award-winning turn on his hometown of Dodge City, Rebein takes us back to the high plains world where his family has farmed and ranched since the 1920s. It is a world populated by feedlot cowboys, stock car drivers, and farm kids dreaming of basketball glory. Here too we find the darker tales of damaged young men returning from war, long-haul truckers addicted to crystal meth, and the sadly heroic residents of a small-town nursing home grandiloquently named Manor of the Plains.
Whether contemplating a fiery crash at a race track, coming to terms with an aging parent, or navigating the last days of a beloved family dog, Rebein offers a subtle, unsparing, often moving look at the moments that go into making a writer and a man. Seen in sharp detail, and recalled from a distance, his is a story of how a man can leave his home on the prairie–and yet never really get out of Dodge.
Two of the essays in the book, "Bullet in the Brain" and "A Fire on the Moon," were selected by Robert Atwan as Notable Essays of the Year in the anthology The Best American Essays (2015 & 2016 editions).
About the author
I'm a writer and professor of writing with a special interest in the nonfiction of place. A previous book of essays, the award-winning Dragging Wyatt Earp: A Personal History of Dodge City, explored what it means to grow up in, leave, and ultimately return to the iconic western town of Dodge City, Kansas, as well as the surrounding high plains country George Armstrong Custer once called "the fairest and richest portion of our national domain."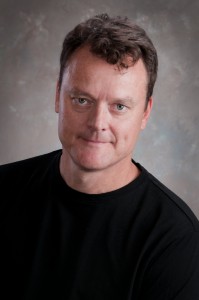 Essays of mine have appeared in The Georgia Review, Ecotone, The Cream City Review, Redivider, and other journals and magazines.  My first book, Hicks, Tribes, and Dirty Realists: American Fiction after Postmodernism, a study of the role of place in contemporary American fiction, was reissued in paperback in 2009. I teach creative writing and chair the English department at Indiana University Purdue University in Indianapolis. I love visiting campuses and book clubs to lead discussions, offer classes in craft, and read from my work. Those interested in hosting me for such an event should contact me directly at the email address listed below.
Contact me here:
Robert Rebein
Department of English
Indiana University Purdue University in Indianapolis
425 University Boulevard
Indianapolis, Indiana 46202
rrebein[at]iupui.edu
317.274.1405