Dragging Wyatt Earp: A Personal History of Dodge City
In Dragging Wyatt Earp (order the book here), Robert Rebein explores what it means to grow up in, leave, and ultimately return to the iconic western town of Dodge City, Kansas.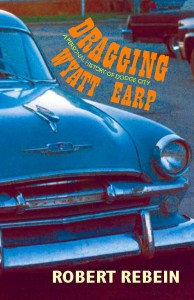 In a series of lively essays ranging from memoir to reportage to revisionist history, Rebein contrasts his hometown's Old West heritage with a New West reality that includes salvage yards, beefpacking plants, and bored teenagers cruising up and down Wyatt Earp Boulevard.
Along the way, Rebein covers a vast expanse of place and time and revisits a number of Western myths, including those surrounding Francisco Vasquez de Coronado, the Cheyenne chief Black Kettle, George Armstrong Custer, and of course Wyatt Earp himself.
Among other adventures, Rebein rides a bronc in a rodeo, spends a day as a pen rider at a local feedlot, and tries to "buck the tiger" at Dodge City's Boot Hill Resort and Casino.
Funny, incisive, irreverent at times, Dragging Wyatt Earp is a must read for anyone interested in Western history, contemporary memoir, or the collision of Old and New West on the High Plains of Kansas.
"In this personal history, we also learn Western history, from Coronado to Custer to Cowboys.  We learn how art can be first manifested in an auto body shop, in a boy who shines chrome hubcaps to gold, and in a young man who reads Hardy's Tess in a grain truck between wheat harvest loads.  Rebein is both home boy and tourist as he visits his past, as well as the future: feedlots, rodeos, casinos.  As he deftly places himself 'home on the range,' he restores Kansas and the Great Plains to their rightful place in the American story." -Thomas Fox Averill, author of rode
"Dragging Wyatt Earp captures the squalor and the splendor that lies at the heart of America as well as the powerful ties of family and community that enable us to live in such a place.  Robert Rebein is a wonderful writer and Dragging Wyatt Earp is a beautiful book." -Wayne Fields, author of What the River Knows
"The son of a salvage yard owner-turned-farmer-turned-rancher, Robert Rebein grew up on ground that is hallowed in the American imagination. Dragging Wyatt Earp chips away at the myths encrusting Dodge City, offering instead a wry, bittersweet portrait of the New West. This memoir cracks wise about the experience of being a boy—watchful, jittery; full of high jinks, bravado and yearning—and about how we humans go about laying to heart the place we have to leave in order to love." -Jennifer Brice, author of Unlearning to Fly
"Charming, searching, and haunting all at once, this book makes me nostalgic for my own handful of years on the Great Plains." -Bob Cowser, Jr., author of Green Fields
Hicks, Tribes, & Dirty Realists: American Fiction after Postmodernism
In Hicks, Tribes, and Dirty Realists, Robert Rebein argues that fiction writing in America is alive and well, contrary to the common assumption that the experimental writing of the 1960s and 70s amounted to a logical culmination—or dead end.
Rebein finds that much literary fiction of the 1980s and 90s represents a triumphant, if tortured, return to questions about place and the individual that inspired the works of Hawthorne, Melville, Twain, Faulkner, and other giants of American literature. Concentrating on the realist bent and regional orientation in contemporary fiction, he discusses in detail the various names by which this fiction has been described, including literary postmodernism, minimalism, hick chic, dirty realism, ecofeminism, and more.
The author offers clearly written, nuanced interpretations of works by Raymond Carver, Cormac McCarthy, Don DeLillo, Louise Erdrich, Dorothy Allison, Barbara Kingsolver, E. Annie Proulx, Chris Offut, and others. In looking at their novels and short stories, Rebein argues that these contemporary realist writers have absorbed postmodernism's last contributions while forging a new realism moderately traditional in its handling of character and reportorial in its depiction of time. However, this new fiction retains hallmark features of traditional postmodernism: the self-consciousness of language and the awareness of the limits of mimesis.
"I urge anyone still puzzled by what has been happening in recent American literature to read this book.  Rebein writes clearly and convincingly of recent books which moved him deeply."—Leslie Fiedler
"Rebein brings sanity, subtlety, and lucidity to the overwrought debate between realistic and anti-realistic fiction. More, he concentrates on whose writers he admires, rather than those convenient to his thesis."—Charles Newman