Headlights on the Prairie: Essays on Home
At the long-term care facility where Robert Rebein's father lands after a horrific car crash, a shadow box hangs next to each room, its contents suggesting something of the occupant's life. In Headlights on the Prairie (click here to order), Rebein has created a literary shadow box of sorts, a book in which moments of singular grace and grit encapsulate a life and a world.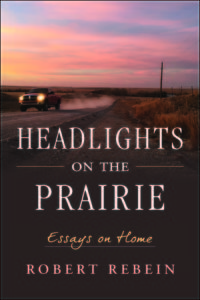 In the tradition of memoirs such as Tobias Wolff's This Boy's Life and Ivan Doig's This House of Sky, these essays bring a storyteller's gifts to life's dramas, large and small. Following his award-winning turn on his hometown of Dodge City, Rebein takes us back to the high plains world where his family has farmed and ranched since the 1920s. It is a world populated by feedlot cowboys, stock car drivers, and farm kids dreaming of basketball glory. Here too we find the darker tales of damaged young men returning from war, long-haul truckers addicted to crystal meth, and the sadly heroic residents of a small-town nursing home grandiloquently named Manor of the Plains.
Whether contemplating a fiery crash at a race track, coming to terms with an aging parent, or navigating the last days of a beloved family dog, Rebein offers a subtle, unsparing, often moving look at the moments that go into making a writer and a man. Seen in sharp detail, and recalled from a distance, his is a story of how a man can leave his home on the prairie–and yet never really get out of Dodge.
Included in the book are two essays,"Bullet in the Brain" and "A Fire on the Moon," that were named Notable Essays of the Year in the 2015 and 2016 editions of Best American Essays edited by Robert Atwan.
Advance praise:
"I learned much reading Headlights on the Prairie. Its strength for me is the way it brings forward those things about Western Kansas that are cultures in and of themselves, and that most people don't really know beyond impressions. I'm speaking here of truck stops, race tracks, feedlots, the intensity of the fight and sports cultures, the long-distance medical help, the appeal of dogs and horses as fellow creatures important to daily life. All of the essays are underscored with the risks, the terror, the near misses, the uncontrollable, from weather to animals to other people. Life in Western Kansas has always been a gamble, and Rebein makes that clear over and over in these fine essays."
–Thomas Fox Averill, author of rode
"The weekend that I spent reading Headlights on the Prairie was deeply pleasurable. The ideas—rich, substantial, complex, worthwhile—are paired with prose that is deceptively simple, straightforward, conversational. There's humility in this voice—a big dose of ruefulness, too—but Rebein's range is expansive enough to hit the bigger (or perhaps I should say, deeper) notes of grief and joy. Like many of the people Rebein describes, his sentences work like machines with a job to do; they are muscular, straightforward, un-fussy—in short, perfectly suited to his subject matter. Headlights on the Prairie both illuminates and transcends its setting. It is set in the Midwest, yes, but it is also set in the region of boyhood, of family, and (despite the presence of his wife and children) of men who work in the outdoors. Rebein offers in the very first sentence the words 'complex' and 'ambivalent' to describe his feelings about his home state, in contrast to the simplistic, one-dimensional view of people whose only idea of Kansas comes from the 1939 film. Work that takes on the myths and stereotypes that encrust a place is not to everyone's taste, and it rarely earns kudos from the Chamber of Commerce. But I find it braver and more interesting—also, in the long run, more durable—than writing that simply strokes a reader's certainties. This is a marvelous book."
–Jennifer Brice, author of Unlearning to Fly
To preorder the book, contact the author or Kansas University Press.
Dragging Wyatt Earp: A Personal History of Dodge City
In Dragging Wyatt Earp (order the book here), Robert Rebein explores what it means to grow up in, leave, and ultimately return to the iconic western town of Dodge City, Kansas.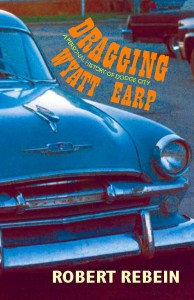 In a series of lively essays ranging from memoir to reportage to revisionist history, Rebein contrasts his hometown's Old West heritage with a New West reality that includes salvage yards, beefpacking plants, and bored teenagers cruising up and down Wyatt Earp Boulevard.
Along the way, Rebein covers a vast expanse of place and time and revisits a number of Western myths, including those surrounding Francisco Vasquez de Coronado, the Cheyenne chief Black Kettle, George Armstrong Custer, and of course Wyatt Earp himself.
Among other adventures, Rebein rides a bronc in a rodeo, spends a day as a pen rider at a local feedlot, and tries to "buck the tiger" at Dodge City's Boot Hill Resort and Casino.
Funny, incisive, irreverent at times, Dragging Wyatt Earp is a must read for anyone interested in Western history, contemporary memoir, or the collision of Old and New West on the High Plains of Kansas.
"Dragging Wyatt Earp captures the squalor and the splendor that lies at the heart of America as well as the powerful ties of family and community that enable us to live in such a place.  Robert Rebein is a wonderful writer and Dragging Wyatt Earp is a beautiful book."
-Wayne Fields, author of What the River Knows
"Charming, searching, and haunting all at once, this book makes me nostalgic for my own handful of years on the Great Plains."
-Bob Cowser, Jr., author of Green Fields
Hicks, Tribes, & Dirty Realists: American Fiction after Postmodernism
In Hicks, Tribes, and Dirty Realists, Robert Rebein argues that fiction writing in America is alive and well, contrary to the common assumption that the experimental writing of the 1960s and 70s amounted to a logical culmination—or dead end.
Rebein finds that much literary fiction of the 1980s and 90s represents a triumphant, if tortured, return to questions about place and the individual that inspired the works of Hawthorne, Melville, Twain, Faulkner, and other giants of American literature. Concentrating on the realist bent and regional orientation in contemporary fiction, he discusses in detail the various names by which this fiction has been described, including literary postmodernism, minimalism, hick chic, dirty realism, ecofeminism, and more.
The author offers clearly written, nuanced interpretations of works by Raymond Carver, Cormac McCarthy, Don DeLillo, Louise Erdrich, Dorothy Allison, Barbara Kingsolver, E. Annie Proulx, Chris Offutt, and others. In looking at their novels and short stories, Rebein argues that these contemporary realist writers have absorbed postmodernism's last contributions while forging a new realism moderately traditional in its handling of character and reportorial in its depiction of time. However, this new fiction retains hallmark features of traditional postmodernism: the self-consciousness of language and the awareness of the limits of mimesis.
"I urge anyone still puzzled by what has been happening in recent American literature to read this book.  Rebein writes clearly and convincingly of recent books which moved him deeply."
—Leslie Fiedler
"Rebein brings sanity, subtlety, and lucidity to the overwrought debate between realistic and anti-realistic fiction. More, he concentrates on whose writers he admires, rather than those convenient to his thesis."
—Charles Newman